Good 'Vine'brations Harvest Festival 2018
---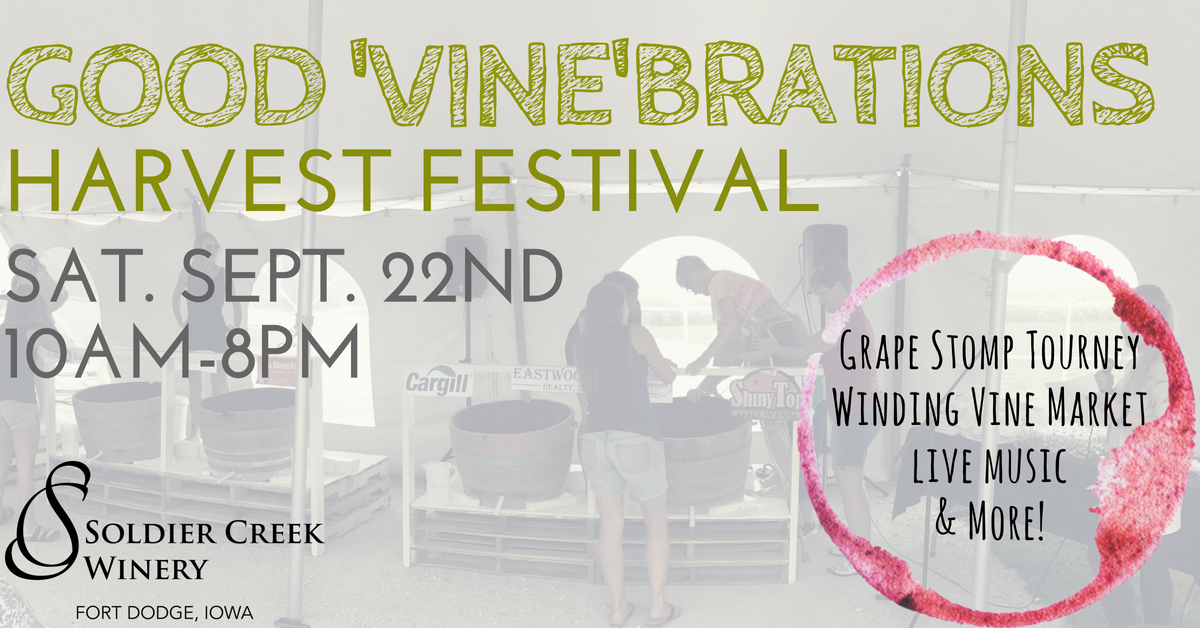 Set your alarms! Mark your calendars! Saturday is the good 'vine'brations harvest festival!
The bless-ed time is upon us, dear Soldier Creek-ians! The harvest is *nearly* in (keep us in your good thoughts while we try to finish it up this week!) and we are ready to CELEBRATE! 
This is our time to have a festival and give you all something to party about! So, in true harvest style, put on some flannel and bring your slushie cups– we're getting ready to throw down on some fun!
Here's what you need to know:
WHEN: SATURDAY, SEPTEMBER 22ND
TIME: 10AM-8PM
WHERE: SOLDIER CREEK WINERY– 1584 PARAGON AVE, FORT DODGE
sO, WHAT CAN YOU DO AT THE GOOD 'VINE'BRATIONS HARVEST FESTIVAL?
Lots! Here's the low down:
Find just what you're looking for in our open-air market nestled amongst the vines. I mean, not only is it scenic, there's some pretty great LOCAL makers and vendors coming! The market starts at 10:00am and ends at 6:00pm. #shoplocal
STOCK UP with these vendors:
LimeLife by Alcone
LuLaRoe
Scentsy
Addison James Fashion Boutique
Tupperware
Usborne Books & More
Lipsense
Matilda Jane Clothing
DotDotSmile Little Miss M
Perfectly Posh
SHOP these fabulous vintage & handmade vendors:
Barrel Me This – Wine Barrel Furniture
White Barn Market – Vintage furniture and goods
Designed by Cary – Repurposed Jewelry
SueZee Soaps Etc. – Hand Crafted Soaps and Bath
K&E Beads – Custom Stamped Jewelry
First Footprint – Native American Sterling Silver
The Craft Addict – Wood and Pallet Home Decor Signs
Boone Forks Forge – Metal art, decor, gifts
The Upcycle Market – Vintage furniture and gifts
Faith & the Farmhouse – Handcrafted Candles
Geckopaw – Unique and Custom Jewelry

live music:
What even is Soldier Creek Winery without music? For that reason, we have live music all day!
11:00A-2:00P>> Beaver Creek 4
2:30P-5:30P>>> Jessica McClintock
6:00P-8:00P>> Lone Tree Revival
The lawn chairs will be set up in their usual spot on the lawn, the weather looks fine (high of 71 OMG YAY!), and the wine is delicious as always 🙂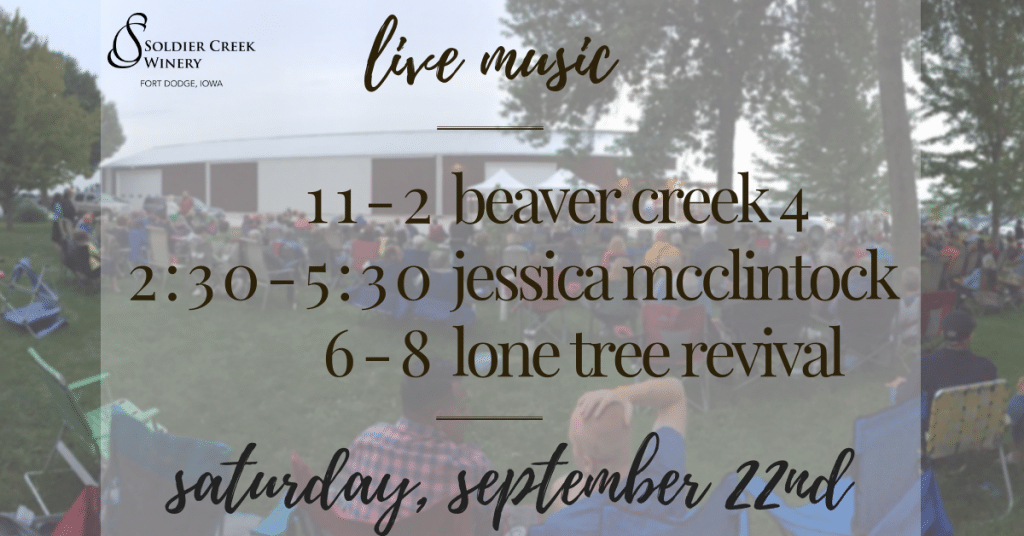 grape stomp tournament:
STOMP. LIKE. LUCY.
Now's your chance! Except, we have a few reasons why our grape stomping is way more fun than Lucy's:
PRIZES!
You could win a case of wine!
A CASE!
THAT'S 12 BOTTLES!
You get to stomp on grapes like you've always wanted to!
YOU COULD WIN A CASE OF WINE!
Well, what do you think? Pretty good reasons, huh? I'm sure you have questions, here are the answers:
How long is the grape stomp tournament?
>> We heard you last year, so this year we shortened the tournament up! The qualifying round starts at 1:00PM and the final 4 teams will compete for the CASE OF WINE at 5:30P.
What are the prizes?
>>Every participant gets a stemless wine glass, the winners of the qualifying round (24 teams) get an *exclusive* Harvest Fest t-shirt (featuring our WINOSAUR stomping his heart out!), the winners of the semi-final rounds (4 teams) wins a bottle of wine to share, and the GRAND PRIZE is a CASE OF WINE.
Won't I be dirty? How will I enjoy the rest of the day?
>> Fear not! We have a wash station complete with loofahs, soap, and aloe! We are prepared!
What is the entry fee?
>>The entry fee is $35 per team.
Can kids stomp?
>> Sadly, no. Since some of the prizes are alcoholic beverages, this tournament is limited to participants that are 21 and older.
How can I sign up?
>> You can sign up here! If there is still space, we will accept sign-ups on the day-of as well.
What are the rules?
>>Here's a handy graphic: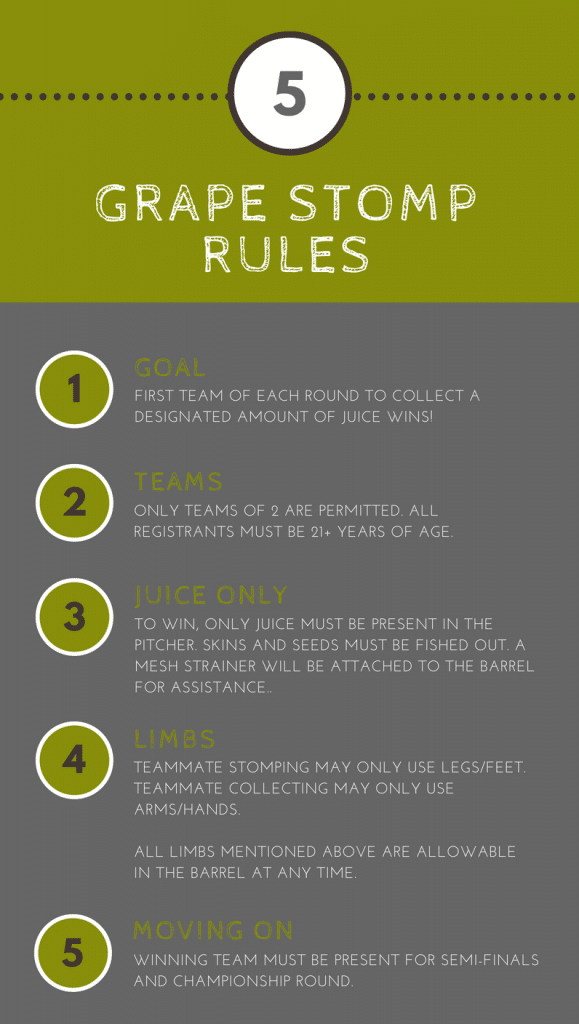 winery tours and hayrack vineyard tours
Ever wonder just how big the vineyard was? Well, hop on the hayrack and take a tour with the Vineyard Manager! Bring your inquiries, but not your libations.
Do you want to see all the equipment we use to process the grapes and make the wine? Be in the winery for the start of a winery tour with ME (Meg)! Libations welcome. Questions too 🙂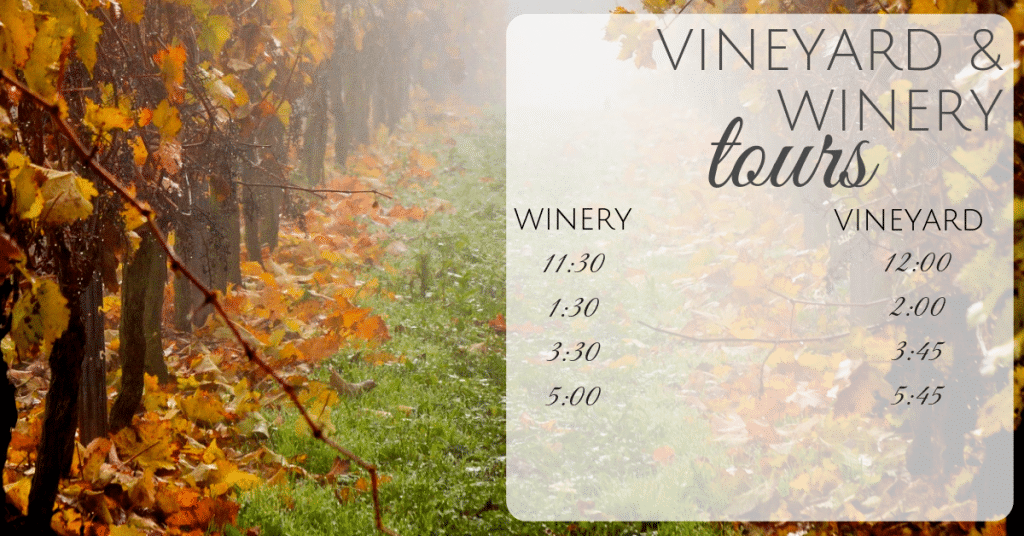 food and treats vendors
Of course, we will feed you! You can grab some delish food or treats from these vendors:
Grub Hub
Pliners Kettle Corn
Schmidt's BBQ
The Dariette
lastly, pull up a chair at our outdoor beer & wine tent!
It'll be set up right next to the Grape Stomp tent so you can enjoy a beverage while you watch your competition stomp! We'll have napkins and pens so you can write up your game plan on how to win a case of wine 🙂
I cannot wait to see you all there!
saturday september 22
10a-8p
with midbest love,
Meg