This calendar is exclusive of privately organized events.
VIRTUAL Winding Vine Market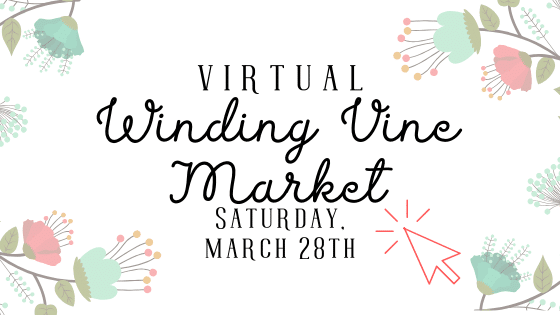 UPDATE: Join us for the VIRTUAL version of Winding Vine Market on Saturday, March 28th.
The Spring Winding Vine Market has always been a great way to kick off the Spring season. It's been such a special way for our community to celebrate local vendors, curators, creators, and musicians. We know how much time and energy our vendors put into their businesses and that's what makes the Winding Vine Market such a great event! We are so so sad that this Spring's event won't go on as we'd hoped and we are really sorry that this decision had to be made. That's why we thought we'd still give you, our beautiful community, a way to support these amazing vendors– through a virtual market!
If you are a musician looking to perform at Soldier Creek Winery, please use the form on our contact page.