May is Iowa Wine Month!
---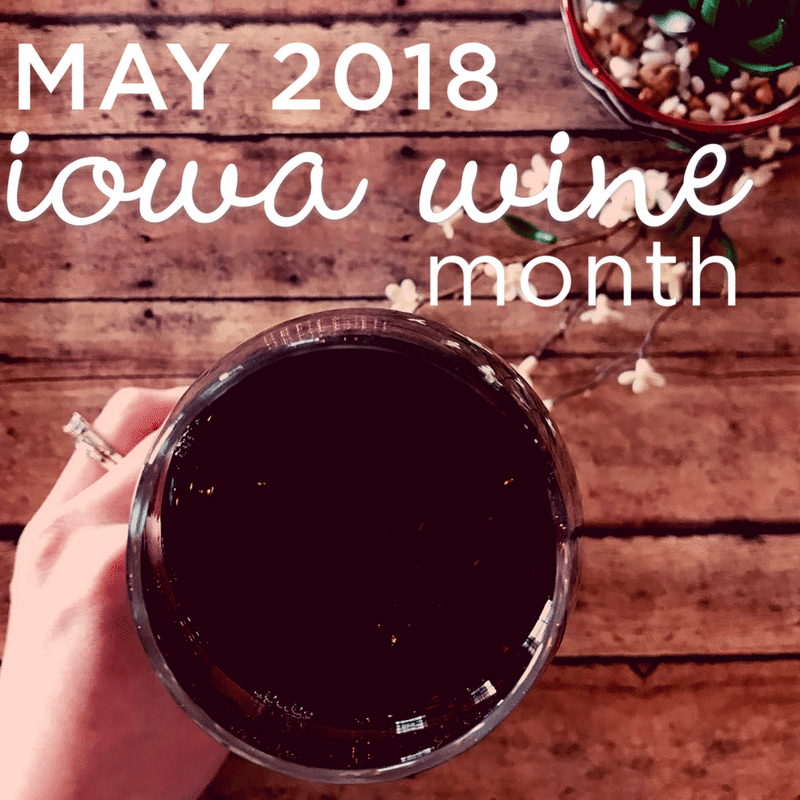 It's may! The best time of year to celebrate iowa wine!
The sun is shining, the birds are singing their little hearts out, the bulbs are popping through the earth, and it's finally getting a bit greener! What better time to celebrate the deliciousness of Iowa wine? Fingers crossed we don't get a last ditch effort to dash all of our hopes of Spring from Mother Nature.
back to the important stuff
Wine. But more importantly, Iowa wine. Let's talk about some fun facts about the Iowa Wine Industry! (The following information was compiled and shared to us by the Iowa Wine Growers Association, Thanks!)
iowa is home to 95 wineries

the maréchal foch grape was named after french marshal ferdinand foch who served as allied supreme commander of the british, french, and american armies in france during world war i. foch isn't known for direct involvement in wine, but the french grape is named after him all the same.

grapes were grown in the council bluffs area as early as 1857.

iowa ranked 11th in grape production in the u.s. in 1899, then 6th in  1919.

the 1900 u.s. agricultural census showed that iowa produced 7,403,900 pounds of grapes and 76.301 gallons of wine.

these are the 3 reasons iowa's grape industry disappeared in the mid-1900's:

The use of the highly volatile 2,4-D herbicide on corn and pastures starting in the mid-1940's
The Armistice Blizzard on November 11, 1940
Iowa's crop base moving to more row crop production– primarily because of the USDA farm subsidy programs

in 1964 a regional ban was imposed on 2,4-d herbicide formulations in the 5 counties where most of iowa's grapes were being grown: muscatine, lee, harrison, mills, & pottawattamie.

in 2010, iowa was nationally ranked #23 in wine production and #15 in number of wineries.

iowa has 270 commercial vineyards throughout the state, encompassing about 1,200 acres.

grape vines are pruned in late winter or early spring with about 90% of the previous year's growth being removed.

there are 40+ different grape cultivars being grown in iowa to produce iowa wines.

the grape harvest season typically runs from early august through mid-october.

grape yields can be anywhere from 3-8 tons per acre.

one ton of grapes will typically yield 140-160 gallons of juice.

grape vines are very sensitive to 2,4-d and dicamba (phenoxy type) herbicides used to kill broadleaves in lawns, crops, pastures, and roadside ditches.

it takes approximately 150-200 hours of vineyard labor per acre per year to produces a crop of grapes in iowa.

to harvest a full crop of iowa wine grapes, it typically takes 75-100 hours of labor.

iowa grape growers cover their vines with netting to keep birds from eating all of their grapes.

terroir (ter-wah) is a french term that describes the special characteristics that the geography, soils, and climate bestow on the wine. iowa has over 400 types of soils and many different types of geography that can affect the terroir of the wines.

as of june of 2016, there were 7 mechanical harvesters in iowa.

it takes about 500 grapes to produce a standard 750 ml bottle of iowa wine.

iowa wineries are allowed to purchase beer wholesale for retail sale in their wineries. in 2017, iowa breweries were able to purchase wine wholesale for retail sale in their tasting/tap rooms.

"iowa" labeled wines require 75% of the grapes to be grown in iowa.

Fort dodge, iowa is the home of "the grapevine magazine" a national grape and wine industry magazine.

total wine production for the 2017 year was 389,546 gallons.

in 2017, 55.2% of iowa produced wine was sold wholesale for resale, 44.6% was sold retail.

iowans purchased an estimated 4,793,278 gallons of wine from wholesale and 294,474 gallons from native wineries for the 2017 year. that's a 6% share of iowa's overall wine marketplace.

the average 21+ year-old iowan consumed 2.13 gallons of wine in 2017.
now you can impress all of your friends!
Take this Iowa wine knowledge, equip yourself with the truth of your beautiful state!
or
Play an Iowa Wine Trivia game…while drinking wine.
I won't judge you.
with midbest love,
Meg